According to the Finnish Electrical Safety Act, "The electrical equipment shall be designed and manufactured in accordance with good engineering practices so that, when properly installed and maintained and used for its intended use, it is electromagnetically compatible and does not endanger human health or safety, or livestock or property."
The productive phase of an electrical equipment over the course of its lifecycle is the time it is used for operation. This is also the phase when the equipment is maintained. The fewer interruptions caused due to maintenance or faults, the better the availability of the device. Decisions made today affect the future. The characteristics of an electrical equipment are to a great extent determined already at time of design. Availability and serviceability are also determined based on the planned setups of the equipment and the wider system it is connected to. Therefore, serviceability of electrical equipment during normal operations should be emphasized at the design and execution phase at production facilities requiring high utilization rates.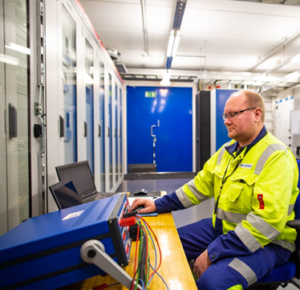 A customer-oriented approach and high availability form the basis of Aurora's preventive maintenance principles and these are systematically taken into account during the design phase. In Aurora's electricity network serving the highly integrated Kilpilahti petro-chemical area, only primary functional testing of equipment automation remains to be completed during the customer's service shutdowns. This is when we test that during a possible electrical equipment failure, the redundant electricity network automatically re-routes the supply of critical feeds.
Also during our customers' maintenance service shutdowns we aim to maintain supply of electricity as uninterrupted as possible. For example with Neste, we start planning for service shutdowns at the refinery up to two years in advance. Additionally to ensure that the functional tests run smoothly, the preventive maintenance of individual components within the scope of the tests start more than a year ahead of the refinery service shutdown.
Aurora's skilled maintenance personnel perform works for example to service circuit breakers and protection relays as well as co-ordinate service providers performing preventive maintenance of backup generators. An essential part of the process is uniform reporting of findings and works performed. This enables the development of preventive maintenance programs and provides feedback on optimal design solutions, further improving the serviceability of equipment. Co-ordination of works take place in weekly meetings between the customer and Aurora and often through daily communication.
"The co-operation between Aurora and Neste has been very proactive and solution oriented. We have a mutual understanding of what needs to be done and above all mutual trust" states Timo Pietiäinen, supervisor of operations at Neste refinery in Porvoo, Kilpilahti.
High network availability is a prerequisite for gaining trust with customers. It is best achieved with technical solutions meeting the customers' needs and, above all, through well-planned and recordable preventive maintenance that is performed by our experienced, skilled, and motivated personnel.
Jyrki Havukainen
Aurora Kilpilahti
Site manager